| | |
| --- | --- |
| Fall at the Golden Optimist | Click on the pictures for a full sized image |
Fall is the best time to work into the middle of the creek for both the dredger and the non-dredgers. The water flow is way down and much of the rock is exposed. The midstream current is gentle enough to allow work without danger of being washed off of your feet.
The nice fall weather brings out some of the more "fair weather" prospectors. Weekend outings may end up with the company of several more gold searchers.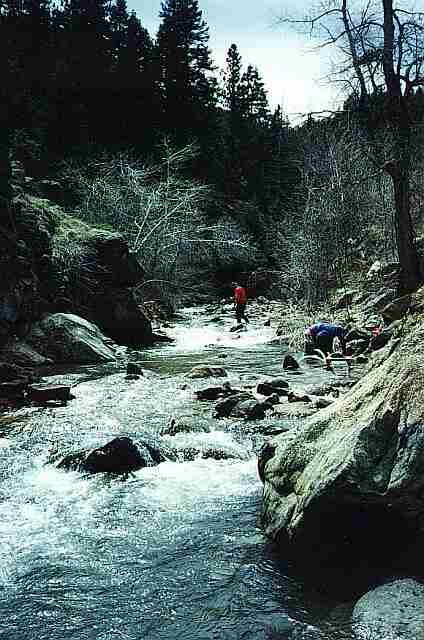 Visitors at the Golden Optimist
As the fall begins, the water warms up to reach around 60 degrees in late fall and a dredger may often be seen without the otherwise required wetsuit. After the first snow fall in the high country, the water temperature will drop 15 degrees almost over night and then prospecting requires special equipment, long insulated panners gloves, insulated chest waders and other items to keep the cold water away from exposed skin.
---
Return to Menu
---