Welcome to the Golden Optimist
---
Welcome to the Golden Optimist. Please come with me for a tour of my claim.

The Golden Optimist is a 20 acre placer claim dedicated to prospecting education. It is located in narrow canyon area near Jamestown, Co. in an area with with steep canyon sides and a faster than desirable elevation drop with 1320 feet of stream on it. The land on both ends of the claim is Boulder city park land on which gold prospecting is not allowed. It is at the northern end of what is considered the Colorado gold belt and in an area classified as a "difficult panning area." It has gold in small quantities. Very little flour gold is found. This makes cleanups easier. Mainly salt size and larger pieces are found and there aren't many of these. Bedrock appears to be from around 3 feet deep and deeper. Many prospectors would pass it by as not productive enough.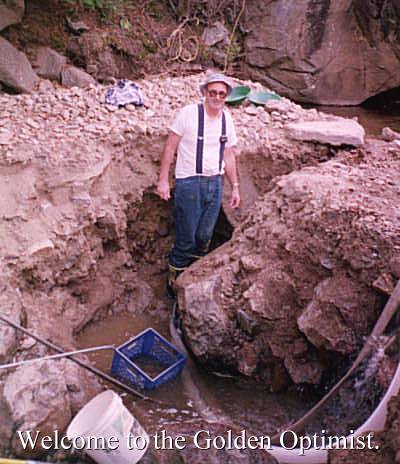 At work moving a gravel bar
This dredged area has since disappeared. The spring run off changes the look of the claim annually. This was dredged out with my 2 1/2" dredge. The big rock showing to the right of the blue box is the large rock rolled out of the way in the "Moving rocks segment".
The largest gold found to date is a flake 3/16" x 1/8". (some would say the flake on the end of the dredge nozzle should be counted)
Update - 1 November. The new largest size nugget is dime size and nickel thickness weighing 2 1/2 grams!
This isn't enough to make any one rich or tempt many claim jumpers. The claim is being used both as a learning laboratory and a social area for small scale recreational prospectors.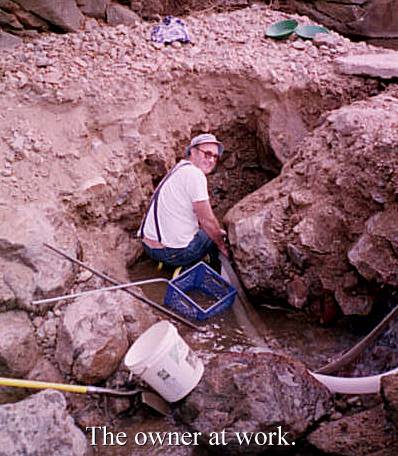 Here I have my "plumbers pants" on
Update 7/22/97
The claim has really turned into a learning laboratory as the Forest Service has discovered that I have not filled out all of the required paperwork and now the real work begins. Finding a claim is easy! Getting all of the proper paperwork and approvals to allow you to use it is the real challenge.
Pack up your trusty gold pan and lets go computer prospecting. After your tour, please drop me an


email
Coming to Colorado? Lets plan a prospecting trip together and do a little gold prospecting.
---
Return to Main Menu
---