Left click on pictures for a full size display. Click on "Back" to return.
---
The Texas Connection
On several of my web pages I have an open invitation to "Come On To Colorado! Lets go Prospecting together"! I have this standing offer open as it sometimes gives me a little extra "push" or reason to go on a prospecting trip. Well, the other day, someone took me up on the offer. I received an email from Texas. Normally any of us self-respecting Colorado'ans don't associate with Texans but if they want to go gold prospecting, they must be all right. This was from waaaay down the other side of Houston. Les said that he had never prospected before but it sounded like a lot of fun. I replied back to him that "Yes, indeed, it is a lot of fun, so come on up"! After several days and multiple emails of negotiation, the date was set and we agreed upon a place to meet. Taking someone prospecting that had never even panned before meant that the place where we were going to go had to be a good one. A place where gold would be found in every pan. I had just such a place in mind. The Arkansas River. The gold is small but it is so plentiful that "anyone", even a beginner can find it.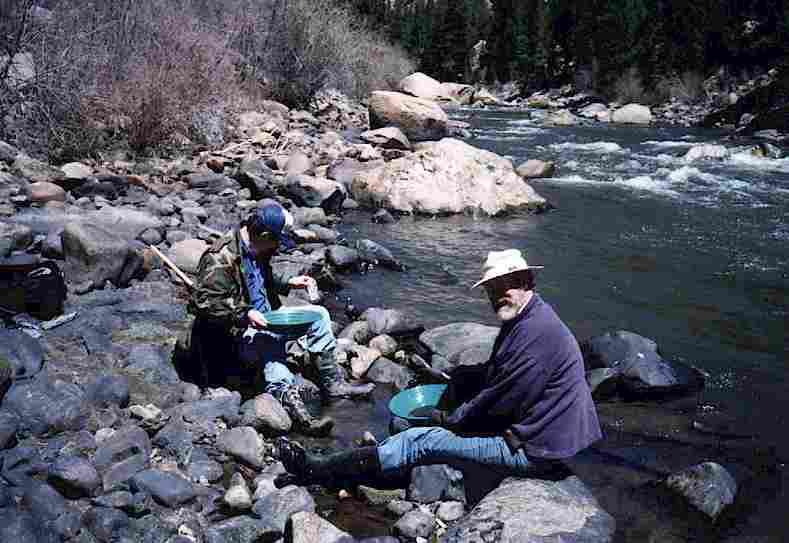 Friday morning, the agreed upon day, found me off from work with a smile on my face and headed south towards Buena Vista. We were to meet at Vista Mining Adventures store at 10:00 AM. It's about 160 miles from my house so I left early.
Topping the pass just outside of Fairplay it was snowing lightly. This was the middle of May but this is also Colorado and at 10,000 feet elevation. We can get snow almost any month of the year. I hoped that the snow wasn't going to be an indication of things to come. The last time I had been in Buena Vista prospecting is documented on my "The Prospecting Trip from Hell" WebPages.
I stopped at the Brown Burro Cafe in Fairplay, Colorado for breakfast. It's an old mining town and the atmosphere is just right for the beginning of a new prospecting adventure. I usually stop there whenever I travel to Buena Vista as it is just about the right traveling distance from my home so I arrive there at breakfast time. After a great breakfast it was on the road again to Buena Vista.
I arrived at Vista Mining Adventures store a little early but after traveling 160 miles and stopping for breakfast the timing wasn't too bad. Parked in the parking lot was a truck with a Texas license plate. They had beaten me and were waiting. After introductions all the way around we adjourned to a neighboring store to await the opening of Vista's store so we could purchase the claims permits.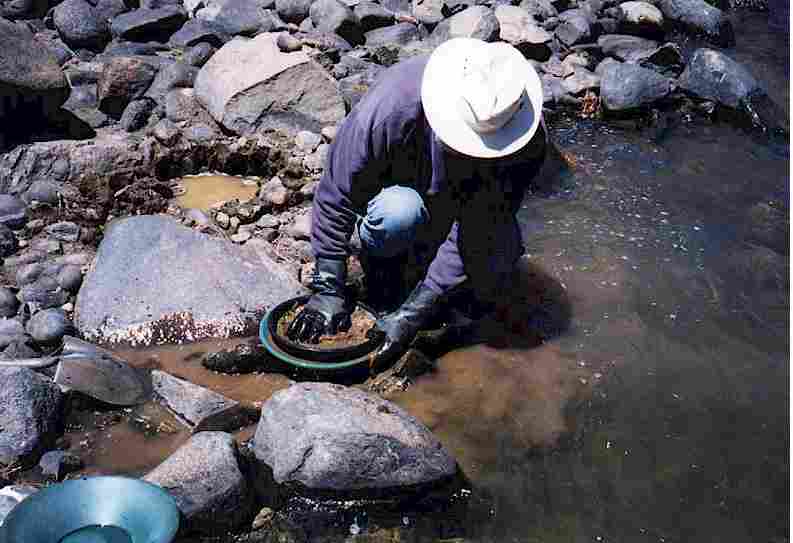 Vista sells 1 day claim's permits for $10 or if you purchase $10 of supplies, they throw in the claim's permit for free. As Les and Bill were new prospectors, they purchased a gold pan, sucker bottle, and glass vial to put all of the gold they were going to find in.
Leaving Vista's store, we drove to our camping spot to set up camp and unload the camping supplies. When in the Buena Vista area, I usually camp on the GPAA's Arkansas River claims group as it has many nice spots. This was more difficult than normal as there are only two ways to get to the camping area and the normal way which is described in the GPAA Claim's Guide wasn't open due to a bridge being replaced. This meant approaching the claims from the town side. This also turned out to be a problem as the road was closed for installation of a underground power cable right down the middle of the road. They had conveniently provided an alternate detour consisting of a pair of barely visible tracks angling off into the boonies. After bouncing along through the cactus and scrub trees for about a mile it joined the road and off we went again. Finally we arrived at the camping spot and proceeded to set up camp.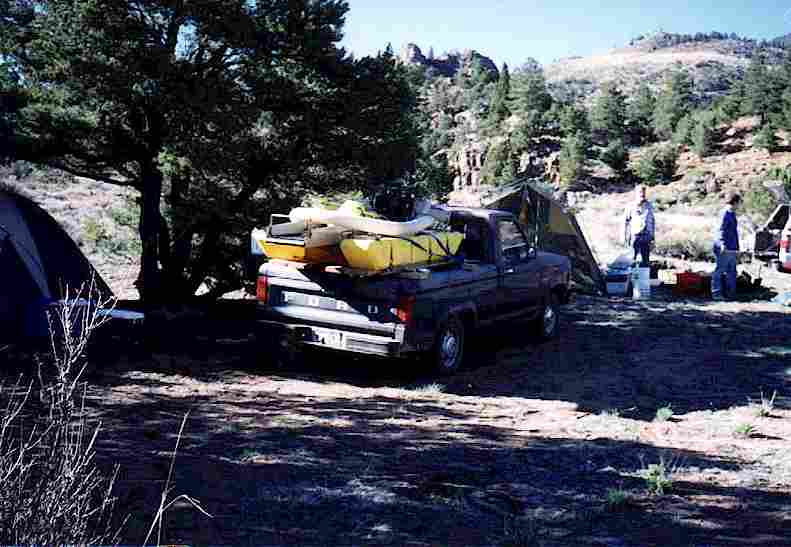 This spot may look familiar if you have read my other Arkansas River pages. My tent is set up in it's normal spot.
Finally, all of the work was done and it was time to play. We headed back down the road and on to the claims area.
After paying our $2.00 parking fee, and parking, we unloaded all of the panning equipment and headed off down the trail to the waters edge. Now you can walk about 100 yards and be at the waters edge, but if you do, you will be panning where everyone else does. Me, I like to "Boldly go where no man has gone before". Well, maybe someone else said that. Anyway, I carry all of my stuff about 1/4 of a mile and then I'm digging in virgin territory. If you look carefully at any of my Arkansas River pictures you might notice a distinct resemblance between the pictures. That's because when you find a good spot, why not keep going back to it.
After spending a little time explaining the principles of where to look for gold and why, it was time to prove there was gold there. Selecting a likely looking spot behind a rock I set the pan and classifier screen down and filled them with, hopefully, gold laden material. I then set the stack consisting of, bottom to top, pan, classifier screen, and on top of it all, the material, into the water and vigorously shook the combination allowing the smaller material to work it's way down into the pan. Removing the screen I glanced at it "just to make sure" that there weren't any 1/2" nuggets in it. Fat chance of that happening on the Arkansas River. This is glacial drift and there are no big nuggets here, just lots of flour. There weren't any monsters lurking in the screen so I sat down, made myself comfortable and began to demonstrate the fundamentals of panning. Les and Bill had never panned before so it was all new to them. I could almost hear them thinking, "Boy, there's nothing to doing that. I can do that no sweat". Little did they realize that the 100's of hours I had spent practicing was what made those simple motions look so easy.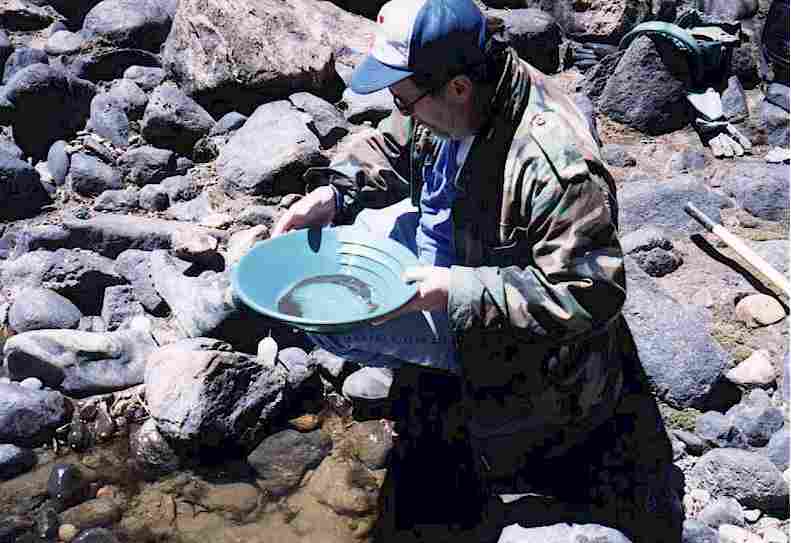 After working the material down to about 2 teaspoonfuls of black sand I carefully feathered it out on the edge of the pan. Success! There were about 20-30 fine colors showing. My practiced eye had no trouble seeing the beautiful color that we all love to see. Les and Bill were straining to see them. I could tell that they weren't particularly impressed. "Wait until you do a pan and see the gold that you panned out" I told them. "It makes a lot of difference when it's your hands that produces the gold". They were eager to try it themselves. Grabbing the shovels and pans they selected good looking spots and filled their pans with material as I had shown them. They then sat at the waters edge and tried to duplicate my panning motion. "It's a lot harder than it looks", Les sad. "Practice makes it a lot easier", I replied. Slowly they worked the material down to the black sand and fanned it out. "Gold! I have some gold", Les shouted. I could tell immediately by the tone of his voice that Gold Fever had struck another victim. I guess if I have to be inflicted with any disease, I'd want it to be Gold Fever.
We spent the rest of the day in the sunshine panning and listening to the music generated by the flowing water. We didn't find a fortune in gold but we left that evening millionaire's in satisfaction and contentment.
---
---