Barley Brothers Bar and Grill
Lake Havasu, Arizona

Click on the pictures for a full size view
---
What, no address for the place? How in the heck do I find it? Well, there's no address needed. This is the easiest find in the city. Kind of like the White House in DC. All you have to do is cross the London Bridge and turn right first chance you get and you will be in their parking lot. No, the London Bridge isn't in London, England anymore. It's now the most famous spot in Lake Havasu and that makes it easy to find.
Why would you want to find it? If you enjoy a great glass of beer, this place will be heaven to you. Pick a cool window seat overlooking the bridge, gaze out on the scantily clad young ladies walking across the bridge and order a sampler wheel. What's a sampler wheel? It's 4 ounce glass of every one of their different styles of brew. Don't plan on driving away after drinking this. Bring a designated driver or share a lot. My sampler included 4 ounces x10 glasses = 40 ounces of great beer, including "The Destroyer", a 12% alcohol India Pale Ale.
What was my favorite, hey with this much great stuff to choose from, I'd have a hard time saying. They were all great. I'm an IPA fan though so it had to be way up on the top of the list. The menu below varies as they brew different styles for the different seasons. I was there in May and with the temperature around 110 degrees outside, the air conditioning and the beer made for a great afternoon.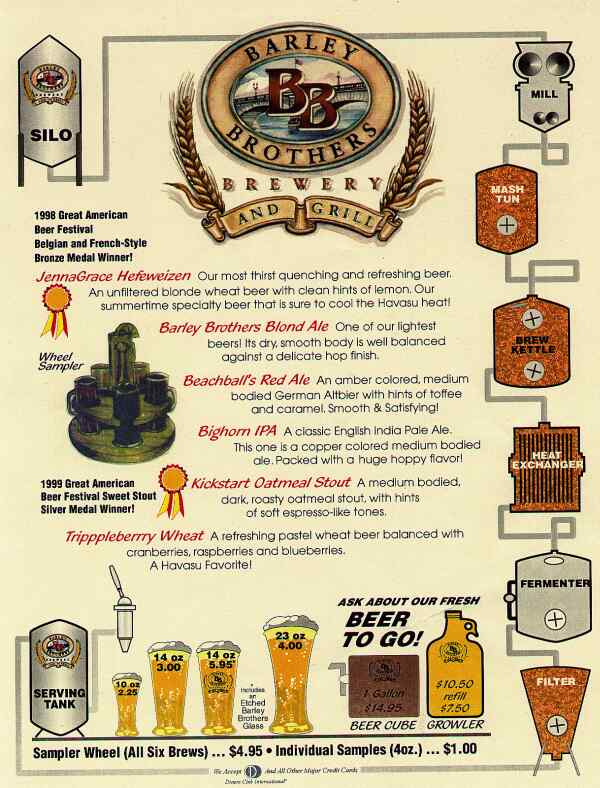 Don't leave empty handed! The beer cube makes a great takeout order!
Plan the trip ahead of time and come prepared. Beer this good deserves to be kept cold. Bring an ice chest with plenty of ice. Yes, the beer cube says $14.95 for a gallon. If it's gone up, tell them you saw it on the Golden Optimist's web page and you only brought $14.95. Who knows, they might give you a price break.
Now you've seen the public part. Lets visit the fun part. Behind the scenes.